After more than 20 years, high school students specializing in aircraft mechanics and avionics took their professional exams in real airport and hangar environments at the Aeroplex technical base. Starting in September, these young graduates will begin their first jobs at the Hungarian aircraft maintenance company, where they will be involved in the maintenance of well-known Airbus and Boeing aircraft types. According to data from the Budapest Chamber of Commerce and Industry (BKIK), this spring, along with them, approximately 7,000 students completed the vocational education system in the capital.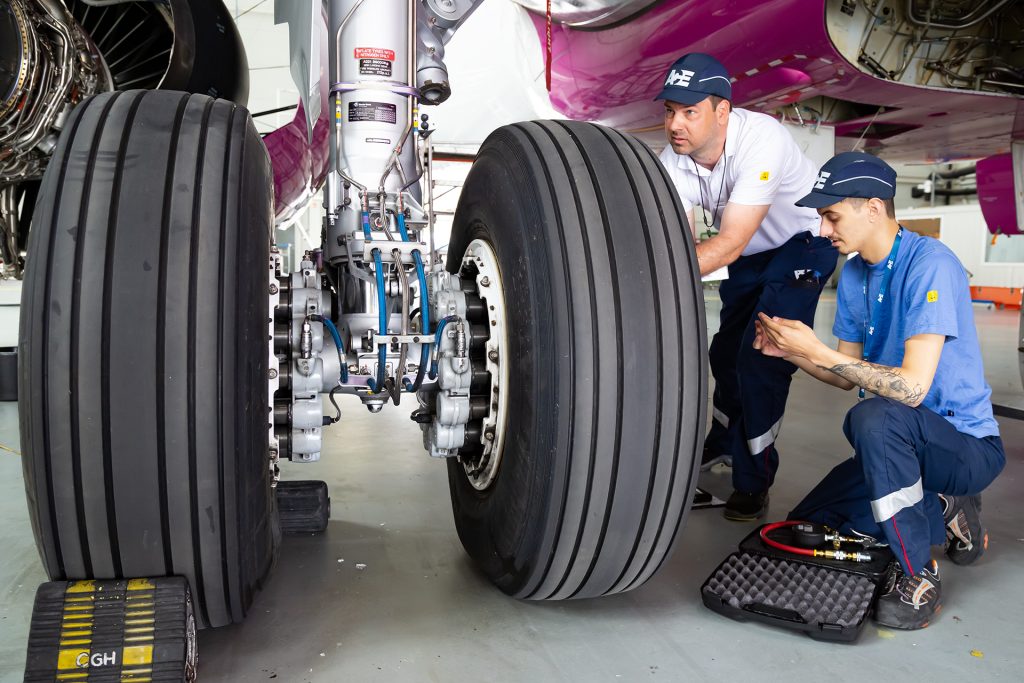 In addition to practical training, this year, students also took their aircraft mechanic and avionics professional exams at Aeroplex's Ferihegy base. The unique dual collaboration between the bilingual Kossuth Lajos Technical School in Csepel, offering the only aircraft mechanic and avionics training in the country, and the Hungarian company is not only a success for the new approach to vocational education and for the Budapest Chamber of Commerce and Industry (BKIK), which oversees this initiative, but also for the entire Hungarian aviation industry. Thanks to this collaboration, the school, working in the closest possible cooperation with the industry, can train Hungarian professionals who can start their careers at an internationally renowned, successful Hungarian company.
Aeroplex not only provides the practical training location but also supports the education of aircraft mechanics and avionics students with a dedicated team of instructors, world-class educational materials, and a state-of-the-art workshop. As a result, these students can gain up-to-date knowledge and secure positions within the company.
BKIK encourages all dual partners to play a role in vocational education as well as career orientation, similar to Aeroplex. It is considered important and guiding that exams take place in real operational conditions and in modern working environments.
Árpád Demény, CEO of Aeroplex, emphasized that, like in other industries, a change in mindset and attitude is needed in the aviation industry. He stated, "Our important mission is to shift the career orientation trends and make our field as appealing as modern and trendy professions today." He added, "At Aeroplex, we work to provide stable, predictable, and future-proof career paths for the next generations, so that students and their parents, who are still considering their career choices, can be convinced that the highest professional standards available in this industry are also accessible in Hungary."
The growing popularity of the training program is evident as 16 aircraft mechanics and avionics specialists who graduated this year will be followed by an average of 50 students in the upcoming years. Similar to the recent graduates, they are already spending their final year of high school practical training at the Aeroplex airport training center, preparing for the systems and technical solutions of the currently operational most common aircraft types. The knowledge acquired in this way also contributes to the development and modernization of the Hungarian Defense Forces.
Just like in aircraft mechanic training, practical education opportunities are available to Hungarian students in numerous other industries. According to BKIK data, this spring, more than 7,000 students took exams in various professions in the capital. Among the candidates, 5,500 have already completed the new professional curriculum, while nearly 1,700 are still following the outgoing National Qualifications Register.
Ákos Csókay, Secretary General of the Budapest Chamber of Commerce and Industry, added, "Aeroplex is a role model in the Hungarian economy, where industry and education go hand in hand, as closely as possible. However, due to the labor shortage affecting almost every sector, even more young professionals with real industrial training are needed than at present. This is the goal of BKIK's pioneering adult education programs, organized with the participation of instructors from Hungarian vocational training institutions and successful professionals in the market."
As part of BKIK's adult education programs, this fall, wheel and brake maintenance as well as aircraft painting training will be launched in collaboration with Aeroplex. Registration for the training will open soon. Further details will be available on the BKIK adult education website.